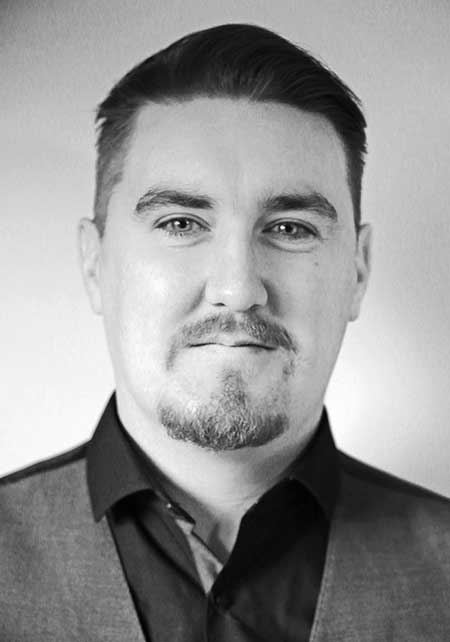 Ciaran has an established career as a singer and actor encompassing all genres of music from folk to operatic.
A past pupil of Blackrock College, Ciaran has a BA in History and Greek and Roman Civilization from University College Dublin, and an MA in Classics, also from UCD. Ciaran studied singing with Philip O'Reilly at the Royal Irish Academy of Music for six years. While at the Academy he also received a diploma in performance. He also studied with Catherine Smith (Leinster School of Music).
For Lyric Opera, Ciaran has performed in such productions as 'Lucia di Lammermoor', 'Don Giovanni' and 'Il Trovatore', all at the NCH. Most recently he travelled to Buxton, Manchester to perform the role of Pish Tush in Lyric's production of The Mikado at the 'International Festival of Gilbert and Sullivan'.
He has made his own of the Baritone patter roles in Gilbert and Sullivan Operettes including The Mikado (The Mikado – NCH), Samuel (The Pirates – NCH), Pooh Bah (The Mikado – NCH) and Don Alhambra (The Gondoliers – Gaeity Theatre)
In 2012 Ciaran performed in the Bord Gais Energy Theatre with Wide Open Opera's debut production of Wagner's, ' Tristan und Isolde', and in September of 2013 he performed once again with WOO in Raymond Dean's, 'The Alma Fetish' at the NCH. Last year Ciaran performed in 'The Rise and fall of the City of Mahagonny' for Rough Magic Theatre Company in partnership with Opera Theatre Company for the Sky Arts Ignition project at the Olympia Theatre.
Musical Theatre roles include, Judd Fry (Oklahoma! – NCH), Harry the Horse (Guys and Dolls – NCH), The Kralahome (The King and I – NCH), Dr Jeckyl/Mr Hyde (Jeckyl and Hyde).
As a Vocalist and Guitarist, Ciaran performs with his band 'The Daily Howl' on a regular basis. Last year they released their first EP, and since then have toured Ireland doing the festival circuit, including the likes of 'Electric Picnic (Laois), Castlepalooza (Tullamore), Canalaphonic (Dublin), Light Colour Sound (Kilkenny) to name a few. The band has performed in such venues around Ireland such as Whelans (Dublin), The Village (Dublin), Monroes (Galway), Cobblestone Joes (Limerick), Crane Lane (Cork) and many more between! The Daily Howl's first album is currently being recorded with Irish artist Gavin Glass, and will be released in 2016.