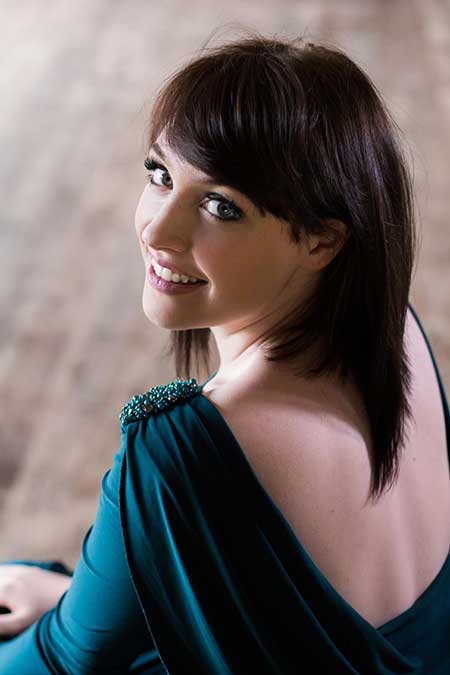 A native of Durrow, Tullamore, Co. Offaly, Emily began her musical journey at 7 years of age when she joined the Adele O'Dwyer Tullamore Classical String School. Through the years she established her music talents, participating in choirs, orchestras and quartets.
At the age of 17 Emily commenced her first voice lessons with teacher Ciaran Brady at the Tullamore Academy of Music. She completed her voice and violin grade exams achieving higher achiever awards in each case.
In 2011 Emily began her third level education at Maynooth University as an entrance scholarship student pursuing a bachelor's degree in english and music. She studied violin under the tutelage of Sebastien Petiet and became a member of the university orchestra. She successfully auditioned for the renowned Maynooth University Chamber Choir and in spring 2013 toured in the U.S.A with the choir and conductor Micheal Dawson. Whilst there, in addition to her choir participation she performed a solo violin piece accompanied by her choir colleagues at the St. Patrick's Day breakfast celebration in the Waldorf Astoria hotel in New York, Notre Dame University, Indiana and the Irish-American Heritage Centre, Chicago.
Emily graduated in 2014 with first-class honours in music. She formed Anù, a musical duo, with friend and fellow musician Rebecca Murphy. They recorded an album Lend an Ear and continue to charm audiences with their unique celtic sound. They brought their music to Florence, Italy in 2014 and while there Emily took master classes in violin under Claudia Rizzitelli. She also took master classes in voice under Susanna Rigacci. Moving to Vienna, Austria in early 2015, Emily continued her voice and violin studies at the Vienna Conservatoire of Music.
Upon her return from Austria, she rejoined the Maynooth University Chamber Choir to record their album and was part of the successful team which won Choir of the World at the Llangollen International Choral Festival in Wales. She is currently performing with GFD promotions Celtic Arch in Celbridge Manor and is looking forward to joining Celtic Nights on their 2016 U.S.A and Canada tour 'The Spirit of freedom'.