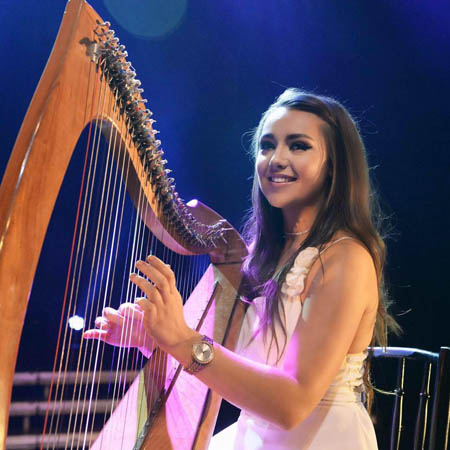 Kate Heneghan is a fiddle player, harpist and pianist from Castlebar, Co. Mayo. Kate is a recent graduate from the BA Irish Music and Dance, University of Limerick in 2018, where she received a first class honours degree.
Her love for music was evident from an early age in both genres of traditional Irish and classical music. Kate has collected numerous high-achievers awards in both piano and harp in RIAM classical exams and has several All-Ireland medals at Fleadh Cheoil na hEireann and Siansa Gael Linn.
Kate has toured internationally and performed extensively across the globe in Europe, the United States and Asia playing harp, violin, piano, guitar and singing. She is increasingly in demand as a tutor, regularly giving workshops and lectures on the merits of traditional Irish music in summer schools including Westport Scoil Cheoil and Scoil Acla. 
Kate comes from a strong traditional family, who are all multi-instrumentalists and/or singers. They perform and tour regularly together. 
Kate is a member of Ireland's award-winning country music band 'Hurricane Highway' who released their debut CD 'Exposed' in 2017 after their viral internet success, accumulating over 2,000,000 views on YouTube. 
Kate is developing a reputation as a composer and has won many scholarships for newly-composed tunes and has had many of her compositions recorded professionally. 
Kate co-manages a traditional Irish music summer school 'Westport Scoil Cheoil' which is becoming one of Ireland's acclaimed traditional Irish summer schools.